To guarantee the success of the digital services we design, we exclusively rely on working methods that have proven their reliability. The quality of a project also depends on its management!
When constructing a project, the two strata that must be taken into account are scope management and deadline monitoring. To guarantee this, the typical project process at Sutu' includes numerous validation phases. From the initial design to the online implementation, we go through each stage with you. Thus, you can validate each of the key stages, marked by clear deliverables, guaranteeing a rigorous quality control process.
Since the quality of a project is heavily dependent on the initial stages of design, the step-by-step validation of each project phase is based on the '5S' methodology. It is by relying on this type of method, allowing the analysis and anticipation of constraints, that we guarantee the effectiveness of the system.

Innovation & satisfaction
Our working methods (described below) aim to achieve two main objectives: innovation and your satisfaction. In fact, your satisfaction is one of our priorities (along with the one of your users, of course!). We guarantee you the best possible access to the project progress to enable the validation of all decisions made. Moreover, you will work closely with one of our project managers to ensure the direction to be taken at all time.
To ensure both your and our success, it is important to be able to inject a dose of innovation into each project. Thus, to achieve this common goal, we avoid simple and basic executions. Passionate about our profession and dedicated, we act as advisers to systematically develop new ideas (we have done quite a good job until now!) – that will make the difference!
---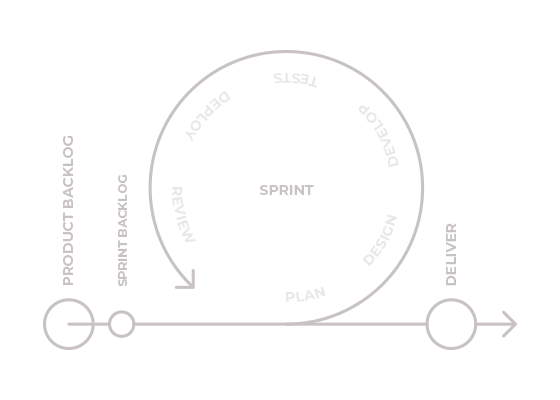 Agile Methodology and Scrum
The Agile methodology is an approach to project management that is based on iterations. It integrates a batch delivery process where you are integrated into the stages of project progress. Hence, you are able to witness the complete project process, step-by-step, in contrast to a linear project management life cycle where it is only possible to see the website once completed.
The key development phases are validated together, upstream, and we make more regular deliveries in the form of demonstrations. In this way, it is possible to see, monitor, and test the site as the project progresses. Agility is a method recognized for its effectiveness and for the customer satisfaction it brings. Moreover, by providing us with feedback on the batches throughout the project, we can minimize the risk of misunderstanding.
Beyond the simple fact that the Agility methodology offers a lot of flexibility, it also enables a much faster minimum viable product development.
---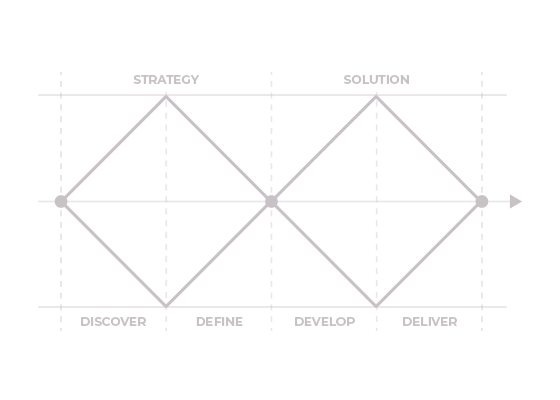 Design thinking
When we talk about design thinking, we are not talking about aesthetics  but rather about a working method and design in the broadest sense. Let's understand design as a creative process from idea to realization.
The so-called 'Double Diamond' process allows a project approach based on research, backtracking, and analysis to design a service that exactly meets the objectives. This hindsight and objectivity are necessary to understand our target and to provide them with the solution that best suits their needs.
Similar to the Agility methodology and its iteration and strata components, our approach incorporates reflection phases to bring forward new ideas and thus, facilitate innovation. We are aware that without research or brainstorming, groundbreaking innovations cannot be launched.
---
Working Methods but also Expertise …